ODOR SEAL

Odor Eliminator
ECO Friendly Odor Eliminator / Cleaner / Degreaser
Odor Seal/OS/JG-200 is an environmentally friendly odor eliminator that gets rid of the toughest odors quickly, safely and effectively without the use of masking agents or perfumes.
Odor Seal/OS/JG-200 destroys odors naturally by encapsulating the odor producing source, eliminating the odor almost immediately.
Odor Seal/OS/JG-200 is environmentally friendly, non-corrosive, non-flammable and biodegradable. Odor Seal/OS/JG-200 is listed on the SNAP (Significantly New Alternative Policy) program vendor list. It's USDA Class C recognized, safe, easy to use and does not stain.
Available in 32 oz and 5 gallon containers and 55 gallon and 275 gallon drums.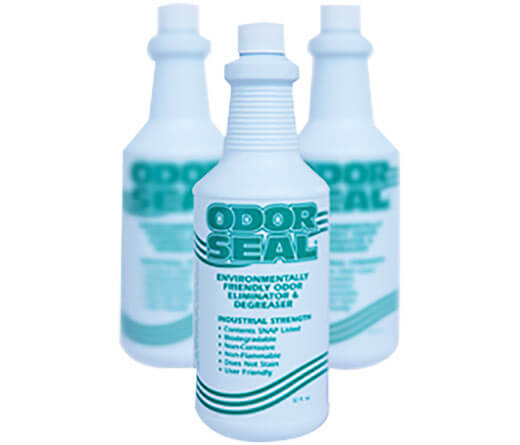 Why Odor Seal?
Environmentally Friendly
Non Flammable
Non Corrosive
Biodegradable
Applications
Sewage Treatment Plants
Dumpsters
Trucks and Chutes
Restaurants
Landfills
Public and Portable Toilets
Compost Facilities
Zoos
Kennels
Holding Tanks
Fisheries