Fire Block

FIRE RETARDANT
Fire Block
Fire Block is a specially formulated environmentally friendly product which is used to retard fire in all Class A materials. Fire Block is a revolutionary product which works to form its own thermal insulation barrier to prevent dangerous flames from spreading. Fire Block also inhibits the development of toxic hydrocarbon smoke. Use to treat Class A materials such as wood, pre-construction, furnishings, carpeting, uniforms, packaging materials, motor home interiors, holiday decorations and storage boxes. It can also be mixed with latex paint and applied to surfaces to protect them from flames.
Fire Block has been tested to be compliant with NFPA 225 & ASTM-E84 tests for flame spread and smoke development values by SGS US testing for Class A materials. It is also tested to be compliant to NFPA701 for textile fabrics. Contact Firefreeze for additional information regarding these tests.
Available in 32 oz spray bottles, 5 gallon bucket, 55 gallon drum and 275 gallon tote.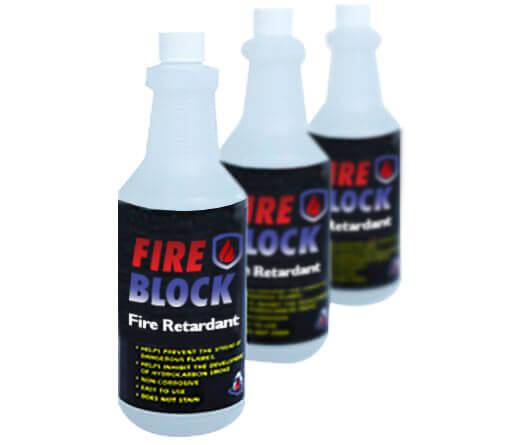 Why Fire Block?
Prevents The Spread of Flames
Easy To Use
Stops Smoke From Happening
Environmentally Friendly
Applications
wood
pre-construction
furnishings
carpeting
uniforms
packaging materials
motor home interiors
holiday decorations
storage boxes