Cold Fire

FIRE SUPPRESSANT
COLD FIRE SUPPRESSANT
Cold Fire® is an environmentally friendly fire extinguishing agent that puts out fire faster, safer, with less water, less damage to property, and less risk to firefighters. Cold Fire cools 21 times faster than water, and works to remove heat and the fuel sources from the fire tetrahedron, preventing re-ignition. Completely 'green' and non-toxic, Cold Fire puts out Class A,B, D & K fires, hydrocarbons or polar solvents, as well as metals, tires, and asphalt and more. Also suppresses vapors and helps to remediate spills. UL Classified, 2N75.
Also available in a 275 gallon tote & 55 gallon drum.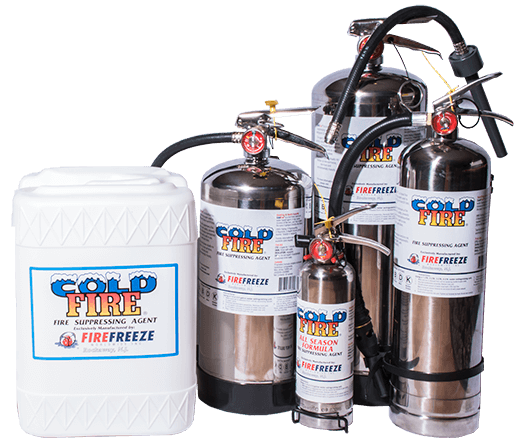 Why Cold Fire?
Non-Toxic, Environmentally Friendly
Prevents Re-Ignition Removes Heat
Encapsulates Fuel Source
Reduces Hydrocarbon Smoke
Applications
Bulk applications
Portable extinguishers
On-board racing systems
Closed loop/sprinkler systems
Hand held aerosol spray for small spot fire and trade applications
Cold Fire BULK
Cold Fire can be added to pumper apparatus, reservoirs or inducted into fire hose lines to attack larger fires. No special equipment is required.
▪ Non-Toxic, Environmentally Friendly
▪ Prevents Re-Ignition Removes Heat
▪ Encapsulates Fuel Source
▪ Reduces Hydrocarbon Smoke
Cold Fire Quart
Extinguisher Refill Cold Fire Concentration is also available in a convenient quart size, specifically designed for recharging extinguishers.  A quart of concentration will charge either a 1.5 gallon or 2.5 gallon extinguisher.  Simply add the correct amount of water first, then add the quart of Cold Fire. Contact Firefreeze if you have any questions regarding a Fire Extinguisher service.
▪ Removes Heat
▪ Leaves No Residue
▪ Neutralizes The Fuel Source
▪ Easy To Use
Cold Fire ALL SEASON FORMULATION
The Cold Fire All Season Formulation is a unique Cold Fire blend that can be utilized in sub-zero temperature applications, such as  sub-zero climates, outdoor machinery, waste management, logging, auto hauling, racing systems, mining, etc.
Cold Fire All Season Formulation is available from -20 degrees F to -65 degrees F.  Our Cold Fire All Season Formulation is available in bulk, aerosol spray, extinguishers and on-board racing systems.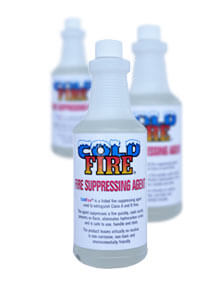 Cold Fire Spray
Cools Down Hot Surfaces Fast! Cold Fire is also available in a unique aerosol can. This unique can will spray in any direction, including upside down! Use the can as a tool to help cool down hot surfaces. Great for Plumbers, Welders, or anywhere a heat barrier is needed. To create a protective thermal barrier, saturate a terry cloth with Cold Fire and wrap around the object you want to protect from heat damage. The spray can may also be used to stop small spot fires. Great to keep handy in the kitchen, garage, basement or by the BBQ Grill. NOTE: Not intended to replace an NFPA 10 compliant fire extinguisher where required by law.
Aerosol Spray Uses:
▪ Creates A Thermal Barrier
▪ Cools Down Hot Surfaces
▪ Stops Charring of Wood
▪ HVAC, Plumbing, Welding, Automotive
▪ Camping, grilling, automotive to put out small spot fires
On-board Racing System
Firefreeze Worldwide, Inc. has supported the racing community since 1996 when we first launched Cold Fire for fire safety on the track at the Indianapolis 500.
In 2019, we are excited to re-establish the presence of Cold Fire in the racing industry. We could not be more proud than to sponsor Alan Prusiensky, NHRA Pro Stock driver. Firefreeze Worldwide, Inc. takes tremendous pride in supporting its local community and Alan is our neighbor! We admire Alan's dedication and passion for the NHRA Pro Stock class and couldn't think of a better partnership!
Applications:
Cold Fire is available in various applications to protect drivers, their crew and spectators. On-board racing systems, extinguishers and bulk applications area available to suit your needs.